Genex Digital Voice Recorder
GDR-256 is a handy digital system for recording telephone calls. It guarantees full control and security over financial and business transactions. It greatly contributes to the improvement of telephone and client services. It helps in the control and reliability of security services, health services, and filing of transactions and agreements over the telephone.
Advandages of Use
According to statistic research in big companies, the percentage of real and "virtual" mistakes was decreased by 80-90% during all telephone transactions.
Offers immediate improvement to the level of telephone transactions services (politeness-behavior-effectiveness) and improves the professional and reliable profile of the Company towards its clients.
Offers training and seminars on exploiting the recording system through the use of case studies; control of potential - possible conditions.
Offers full and effective control by aiming at informing technical departments and dealing with failures.
The system is accompanied by Client Software (Remote Control) for controlling the system and reviewing calls by authorized network users.
System Operation Drawing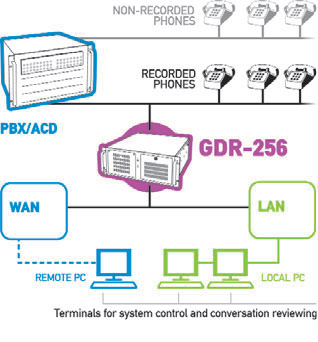 -->